Vegan Slow Cooker Chili
August 7, 2013 in crock pot, dinner, easy supper, recipe, slow cooker, tomatoes, vegan, vegetarian by Sandra Kohlmann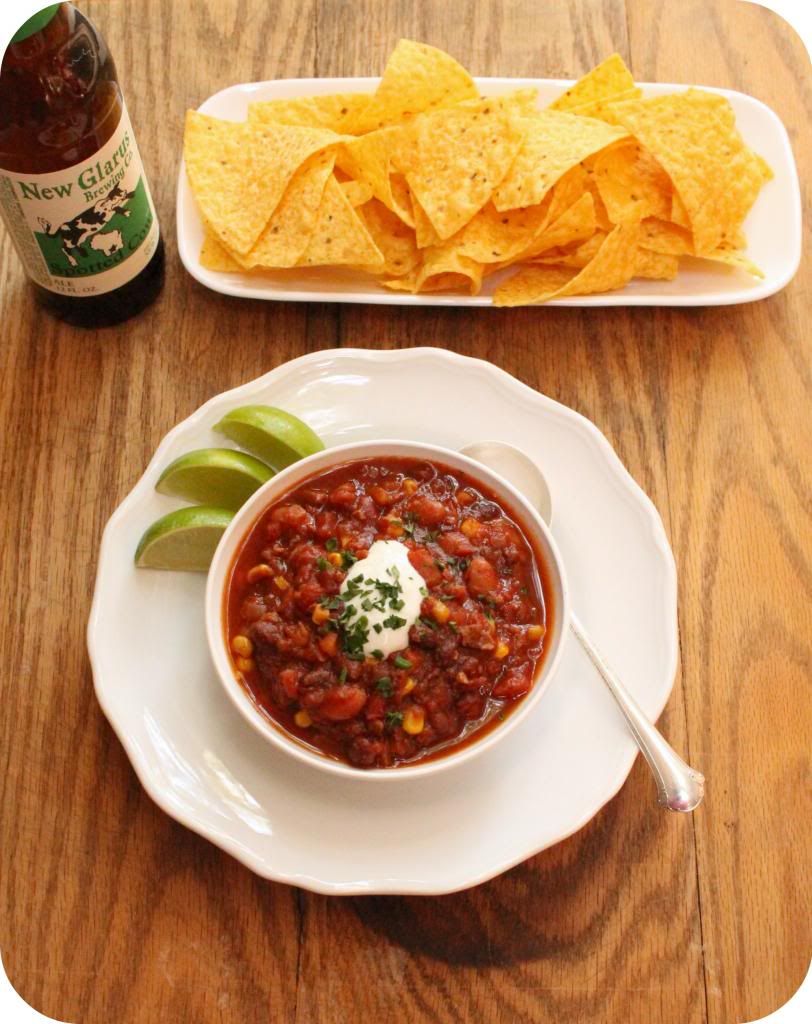 Tomorrow marks the start of the NFL preseason, and I've got a recipe that is perfect for the occasion. For a Thursday night game, you don't want to be doing lots of prep, before the game. This chili comes together easily, and because it simmers all day in the slow cooker, by game time, the flavors have melded nicely. It's a thick, rich chili with incredible flavor, so you will not miss the meat. And since it'll be ready and waiting in the slow cooker, you won't have to miss a moment of the game, putzing around in the kitchen.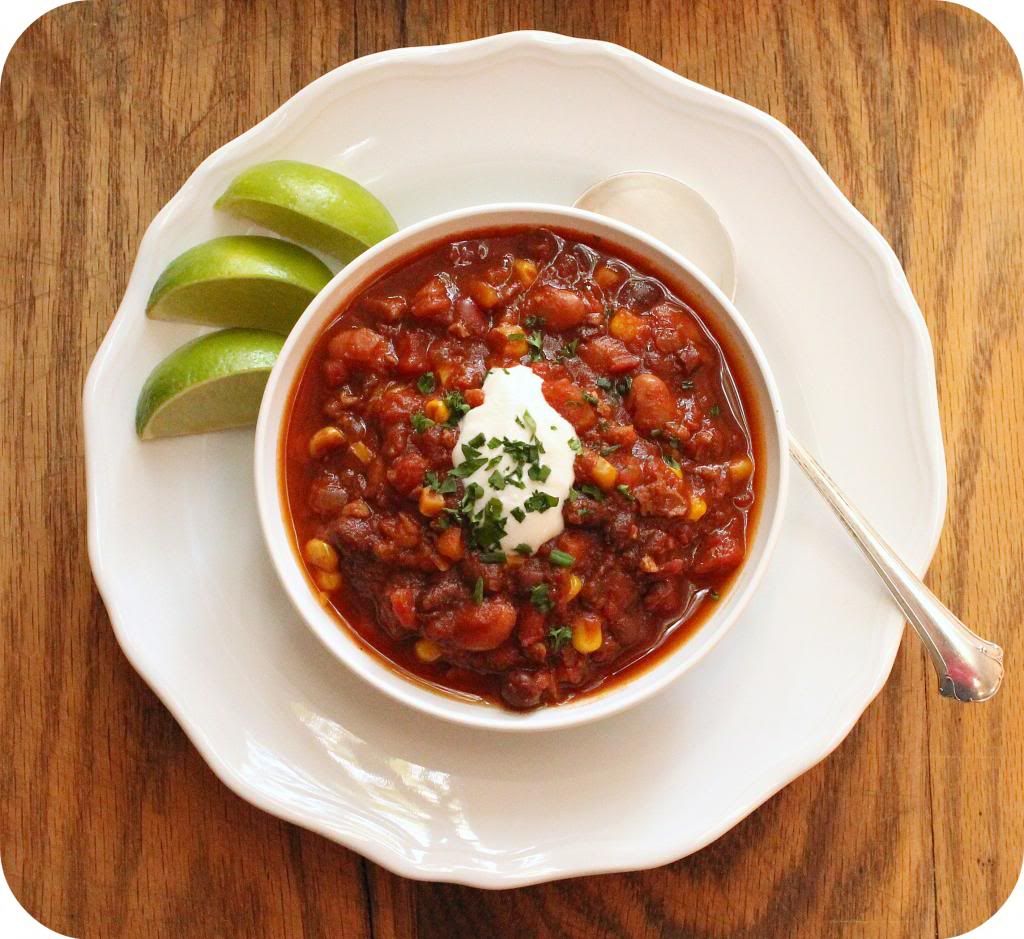 You'll see in the recipe, that I made a rather mild chili. I don't want to traumatize Veronica and Clarissa with anything super spicy. If you want a hotter version, just increase the amount of jalepeno or throw in some crushed red pepper flakes. Another option I like is pickled banana peppers. The heat is minimal, so you can add quite a bit, to add a great pickley, peppery flavor to the mix, while you boost the spice.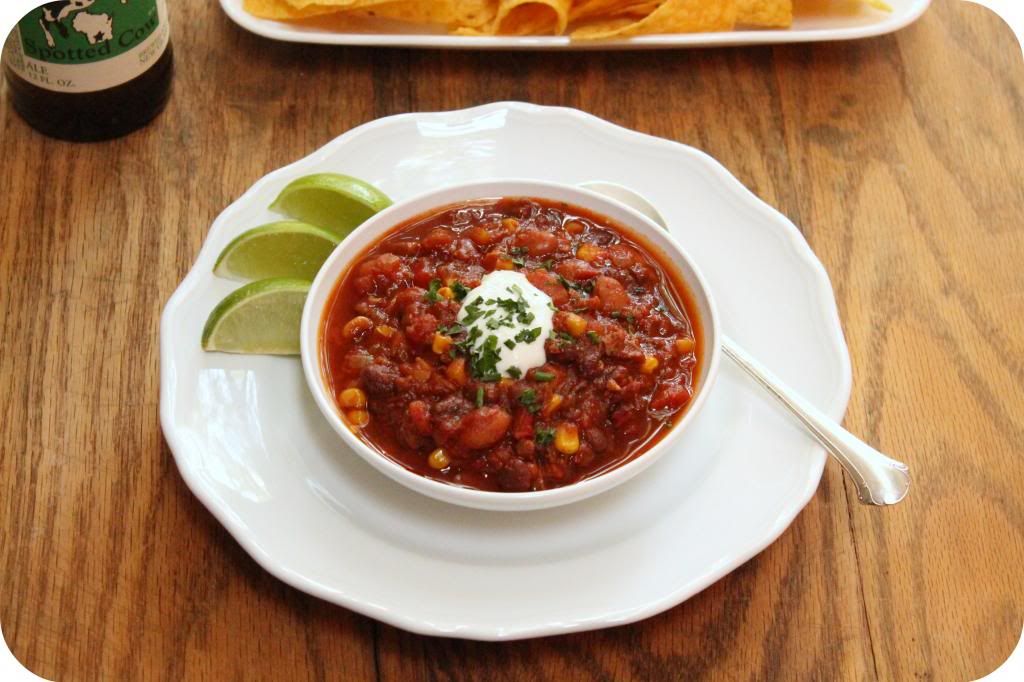 This recipe, as with most chili recipes, makes a big batch (a good six quarts). Even if you are cooking for one, go ahead and make the whole recipe. Portion the leftovers into single-serve containers, label with the date, and put them in your freezer. Chili freezes great, and makes for a quick and easy lunch or supper on a day when you don't have time to cook.
Vegan Slow Cooker Chili
2013-08-06 11:00:50
Ingredients
1 large onion, finely diced
1 cup finely diced zucchini
1/2 cup finely diced carrot
4 cloves of garlic, minced
1 tbsp minced jalepeno (or more)
2-28 ounce cans crushed tomatoes
1-28 ounce can diced tomatoes
12 ounces fave protein crumbles; crumbled tofu, or finely chopped seitan
1-15 ounce can light or dark red kidney beans
1-15 ounce can pinto beans
2-15 ounce cans black beans
1-16 ounce bag frozen corn
1/4 cup chili powder
2 tsp cumin
1/2 tsp dried thyme
1 tsp kosher salt
juice of 1 lime
optional garnishes
vegan sour cream
lime wedges
tortilla chips
Instructions
Stir the onion, zucchini, carrot, garlic, and jalepeno together in a large slow cooker (at least 6 quarts).
Set the slow cooker to high and cook for 2 1/2-3 hours, or until the vegetables are all very soft. It should be hard to differentiate the different veggies.
Add the remaining ingredients.
Stir well.
Reduce the heat to low and cook an additional 6-8 hours (or longer).
Serve with your favorite chili garnishes.
Notes
If you don't have time to let the veggie mixture cook on high, before adding the other ingredients and reducing the heat, there is another option. You can throw the onion, carrot, zucchini, garlic, and jalepeno in the slow cooker the evening before. Turn it on low and let it go overnight. In the morning, add the rest of the ingredients, keep the temp set to low, and let the chili cook the rest of the day, as the recipe instructs.
http://veganmotherhubbard.com/